Chocolate Shop Plainview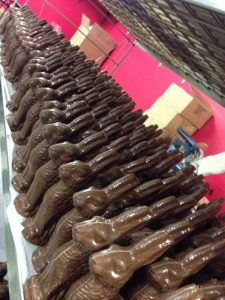 Are you looking for an authentic candy shop that specializes in chocolate with a fantastic assortment of incredible-tasting delicacies? Rated as one of the top five chocolatiers on Long Island, The Chocolate Duck Chocolate Shop Plainview is the place to be for treats and other items that will delight and satisfy even the pickiest of palates! We first opened our doors more than three decades ago, and we have established ourselves greatly over that time period. We have gained a strong following and are known as the "go-to" sweets source throughout both Nassau and Suffolk counties. Our high-quality confections are put together with an immense attention to detail in-house, and the results are beyond exceptional and leave the taster coming back for more!
Our Chocolate Shop Plainview welcomes you with an atmosphere of pleasantness as you walk through the door. You are greeted by the incredible aroma of chocolate and sights of deliciousness from wall to wall, counter to counter, and display to display. You will see such enticing selections as our chocolate turtle clusters, truffles, peanut butter cups, jell rings, as well as our chocolate-covered items that include strawberries, pretzels, nuts, and Oreos, just to name a few. In addition to candy, you can also look over and consider some of our cupcakes, cake pops, and still-warm cookies. We additionally receive a multitude of special orders for cakes for occasions such as weddings, birthday celebrations, showers, and anniversaries! We would also like to mention that we even host children's parties at our colorful and cheerful premises!
Perhaps you yourself have a talent and aspiration to create some sweets of your own and are in the process of selecting baking supplies as you gather recipes and other goods for this purpose. Look no further than the Chocolate Shop Plainview! We have an impressive variety of molds, tools, and other decorating supplies to help you "set up shop" at home! Even if you're needing specific cake toppers, tools, holiday molds, etc, we have you covered! And in case you're interested, we provide baking classes that will enable you to raise your skills to another level entirely! Our friendly staff are delighted to encourage all who walk through our doors, sharing their techniques and best tips, as they truly appreciate and can very much relate to your desire to put your baking visions into motion!
Whether you need to begin planning what type of cake and/or other desserts you'll be needing for a special event, would like to attend a class and/or purchase supplies, or you'd just like to come by, browse our shelves, and see all that we have to offer for yourself, we would love for you to come by to sample and purchase the items that truly bring joy to your soul! We are here for you, and it's our pleasure to assist you in whatever way we can so that you leave our shop very satisfied with our high-quality confections and supplies and feeling like you can't wait to come back again!