Specialty Cakes West Babylon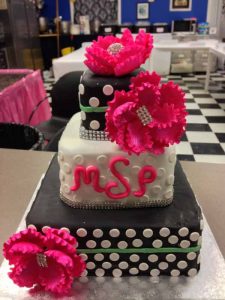 When you have a special event coming up, what better way to honor your loved ones than with elaborate specialty cakes West Babylon? Your special event needs a special cake. A specialty cake can truly encompass the main theme of any event and is a precious way to say I love and appreciate you.
At The Chocolate Duck, we've been in this business for 30 years, running a local mom and pop shop that has continuously wowed our guests again and again. We create elaborate specialty cakes West Babylon that suit all events and celebrations!
With an array of delicious flavor options from our charming sour cream pound cake, to a classic red velvet or decadent chocolate buttermilk fudge, we will do all we can to make your cake come to life and stand out, leaving your guests smiling when they leave the party. You choose the design or leave it to us!
Our accomplished pastry chef and cake artist truly puts her heart and soul into every single creation with "Cakes By Christina". From elaborate wedding cakes to novelty options, she is a design warrior! You may know her from the Food Network's "Last Cake Standing" and "Cake Wars". Christina is devoted to her craft and looks to achieve absolute perfection with every creation to design elaborate specialty cakes West Babylon for our customers. Schedule your cake consultation today to get your remarkably made cake!
From children's or adults' birthdays, to engagements, weddings, life changes, sports games, promotions, and more – we've got a sweet treat for everyone and the choices are all up to you! Fill out our contact form or give us a call with as many details as you can provide, and we will astound you with what we come up with! The options are endless as you take the time to map out exactly what your special event needs. We will make sure to keep in great contact with you about the process of designing your specialty cake, so you can rest assured it will be available in time for your party.
We ask that more elaborate cakes such as wedding cakes be booked three to six months and advance so we can provide the most care and attention possible. We understand how momentous your celebration is, and we want to design a cake that reflects that perfectly.
Browse our online gallery to see the intricate specialty cakes West Babylon we've curated for our customers in the past! We're really proud of them. Using complex methods of design, we create artistic realism through every specially designed cake. https://chocolateduck.com/
The Chocolate Duck is conveniently located on Main St. in Farmingdale, NY. Pop in and see what we're all about! We are the go-to for specialty cakes West Babylon for thirty years, striving to provide mind-blowing flavors and keen design that will reflect the beauty of your life. This is our utmost passion and we can't wait to serve you! Book your specialty cake, party, or class with us today!