Specialty Cakes Hempstead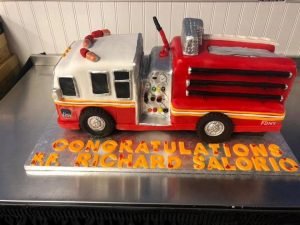 If you are looking to celebrate someone's birthday, wedding or event, it is crucial to curate a memorable specialty cake in their honor! From elaborate cakes that suit your loved ones favorite characters or hobbies, to wedding masterpieces – at The Chocolate Duck, we do it all.
Make a special day or event shine with professionally decorated, stand-out "Cakes By Christina", at the Chocolate Duck! Christina is an accomplished pastry chef and cake artist, best known as a frequent competitor on the Food Network's "Lake Cake Standing" and "Cake Wars". She is devoted to perfection and uses an array of spectacular tools to achieve intricately designed elaborate specialty cakes Hempstead for our customers.
Schedule a consultation with us today to come up with a custom design that suits your special occasion flawlessly! With a variety of flavors from our charming sour cream pound cake, to a classic red velvet or decadent chocolate buttermilk fudge, we will truly give our all to make your cake come to life with our expertise that will wow your guests!
To receive the most care and attention, we ask that very elaborate cakes such as wedding masterpieces be booked 3 to 6 months in advance. We want to make sure your cake is designed with the utmost precision where we can take the time to construct exactly what you're hoping for.
Your special day deserves a special cake! Whether it's for birthdays, weddings, themed parties, or promotions – we can supply the perfect specialty cake that shows your loved one how much you care. If you want to trust that your masterpiece will come out exactly how you've imagined it, refer to us at The Chocolate Duck. Take a peek at our specialty cakes Hempstead by browsing our online gallery to see the award-winning delicacies we've made for our customers in the past!
For information on our hours of operation, the variety of baking and design classes we offer, or to schedule a party with full use of our party room, our user-friendly website has everything you need to know. You can even choose to send a cake to a friend, online! We have a wide variety of options available and can tackle any baking challenge you request, even if it's not listed on our website. https://chocolateduck.com/
We look forward to knowing your guests will absolutely love the sweet specialty cakes Hempstead and the sweet flavors we provide to every creation we assemble, with preciseness and care. The Chocolate Duck has been in business for 30 years for a reason, serving our communities with the highest quality designed desserts.
Don't you want to see your child's face light up when they see a cake molded into their favorite TV character? Or honor your friends at their wedding with an intricately designed marvel that blows their guests away? Reach out to us today!
The Chocolate Duck is conveniently located on Main St. of Farmingdale. Pop in and check out what our local shop has to offer you and your loved ones!