Gift Baskets Syosset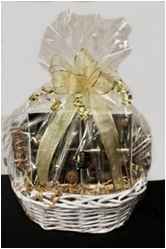 It can be difficult when you want to send someone a gift but don't know them very well, such as an acquaintance or colleague, and/or you really aren't certain what to select that they would genuinely like. You can get lost looking, and, as you're spending your hard-earned money on it, you want to make sure you make something better than just an adequate choice. Perhaps you should consider a Chocolate Duck Gift Baskets Syosset. This is a wonderful option as a thoughtful way to celebrate a recent job promotion or new home, a birthday or anniversary, or even just a "thinking of you" gift for someone special or one who needs some cheering up while going through a difficult time, letting them know that they're on your mind. We have been in business for over 30 years and are known throughout the Long Island area as a chocolatier who provides nothing less than excellence in their craft! We have something for every palate that will surely impress!
At Gift Baskets Syosset, we have many mouth-watering selections on our website, chocolateduck.com, to choose from. You may prefer going with a custom gift basket that can be made, based on your specifications. We have quite a variety, including such items as our truffles, peanut butter cups, clusters, as well as our gourmet chocolate-dipped strawberries, nuts, pretzels, and oreos, among others. We can also provide holiday gift baskets for Christmas, Hanukkah, Kwanza, and Easter, filled with delicious holiday-specific goodies, filled with our chocolates that we make in-house and with finesse. Our  associates are experts who work with all different types of chocolate, including dark, milk, and white chocolate, all made from the finest and freshest ingredients, leaving the recipient absolutely thrilled by your thoughtfulness and excellent taste!
In addition to Gift Baskets Syosset, we also carry a full line of chocolate molds, tools, and cake decorating supplies. We have a plethora of choices, along with a staff of highly-talented chocolatiers and cake artists who are happy to help out with narrowing down what will work best for your chocolate-making and/or baking ideas. Does this still sound somewhat overwhelming? Then you may be happy to hear that The Chocolate Duck has a variety of classes available that you can take, and they are also offered on-site! Our website lists all the different types we have, including chocolate molding, cookie, and cake classes. Another wonderful service we offer is our children's parties, where the guest of honor and their friends have the opportunity to make chocolate, cupcakes, or cookies, making it a celebration that they will never forget! In addition, after you put the kiddies to bed, you can treat yourself by coming out with a group of girlfriends to one of our Mommies Night Out Parties; talk about something fun and different to do together!
It would be our pleasure to help you with whatever gift basket and confection needs and interests you have. Please peruse our website and don't hesitate to give us a call, if you have any questions, at (516)249-0887. We are here to help you find the perfect gift basket for that person who you want to bring joy to yet is tricky to shop for. We would absolutely love to set you up with the perfect Gift Baskets Syosset that will make the one receiving your kind gesture feel very special!